Description
Make the perfect gift for your four-legged pal!

GET 40% OFF + FREE SHIPPING TODAY ONLY!

The Perfect Holiday Gift For Yourself, Your Family Or Friends!




The Best way to improve your dog's mood!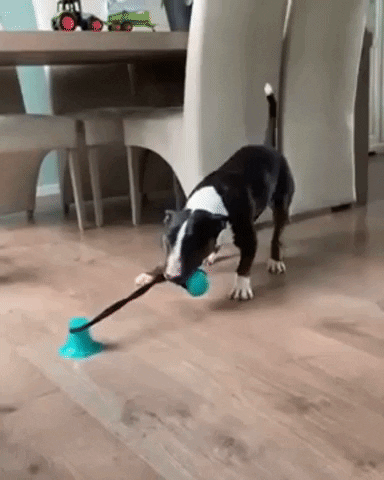 ✔️ HELPS TRAIN YOUR DOGS: This toy also provides a great way to teach your dog self-control and improve their behavior. Set rules on when and how much they can play with it, and encourage them as they tug at it and teach them to stop when you tell them to. The physical exertion involved in this game also exhausts and calms down aggressive dogs.
✔️ MATERIAL: Made of natural cotton fibers and non-toxic rubber and colors, it is soft and non-toxic, durable and wear-resistant, very suitable for the dog.
✔️ DURABLE: Featuring a strong suction base and a thick, braided rope, it is built to withstand any amount of tension caused due to stretching. The toy does not snap or come off no matter how hard your dog tugs at it and can handle even aggressive chewers. It gives your dog hours of fun as he/she tries to figure out what this mysterious, super-strong toy is.
✔️ CLEANS THEIR TEETH: The rugged pattern on the rubber ball provides a better grip and chewing on it promotes dental hygiene and health in dogs. Add some dog-friendly toothpaste to clean your dogs' teeth as they are playing. You can also encourage your dog to play with it by adding a little bit of their favorite treat like peanut butter to it.
✔️ REDIRECTS INAPPROPRIATE USE OF TEETH: Most dogs, especially puppies love having something to bite. This means chewed up papers, furniture, and even painful ankle-bites. This Ropeball Suction Tug Toy satisfies their need to bite and teaches them what is OK for them to bite and what is not.
How to Use: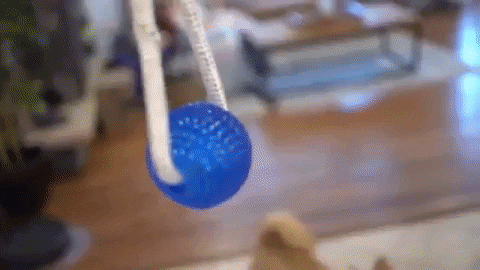 Why do I need this?
1. Teething and aggressive pups will no longer destroy your belongings! Wear them out quick with the Suction Dog Toy!
2. Not only will the Suction Dog Toy help clean your dogs teeth giving them a brighter smile, but it also loosens any dirt or grime that may be stuck in their teeth.
3. Not available in stores. 

FAQ:
1. WILL IT HARM MY PET?
– Absolutely not! Our Suction Dog Toy was specifically designed with thick cotton fiber rope to prevent any backfire or kickbacks.
2. FLOOR DAMAGE?
– We recommend using our Suction Dog Toy on flat or tiled surfaces, also works great on door-sides. Your dog will LOVE it!

So why think twice? For just $24.95, improve the mood of your lovely pet!